IV. ConVERSEations
We begin this section with a song by Hadassah Haskale, a former contributor who passed away in the summer of 2021, and a sonnet written in response to the song.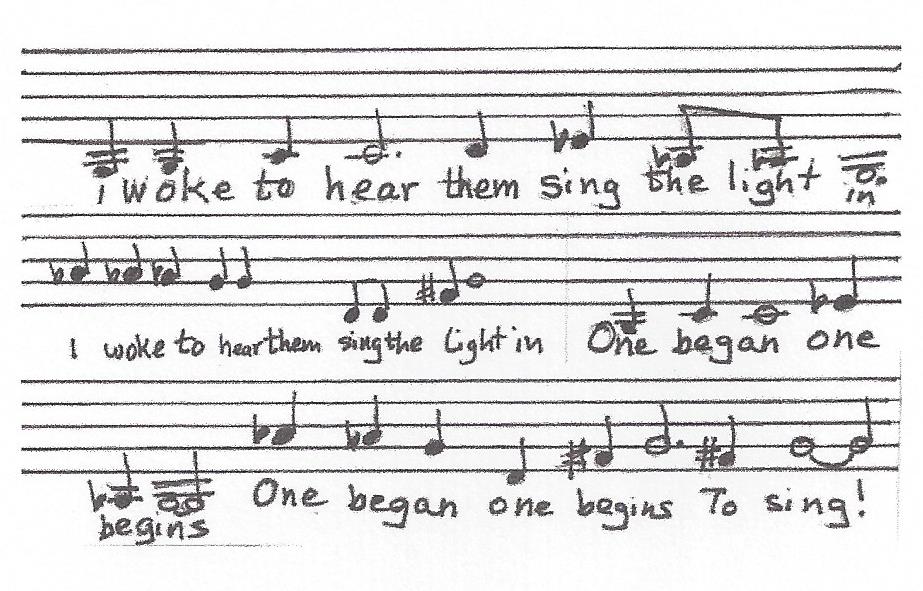 BIRDSONG

I woke to hear
them sing the light in
I woke to hear
them sing the light in
One began one begins
One began one begins
to sing!
Try a note
in morning dark
I will answer
where I am
I am!
Try a note
in morning dark
I will answer
where I am
I woke to hear
them sing the light in
I woke to hear
them sing the light in
—Hadassah Haskale

*

TO A FELLOW-POET

As after midnight's muteness the first birds
call to one another and seem to make
the space between them, even so the words
within a poem call each other, wake
each other to a life before unknown.
And should there be an end to this, a stop,
at the poem's edge a boundary- or gravestone?
Should we put love in quarantine, and lop,
before they touch, association's trees?
I hope not so; but in a pleasant shade
woven of all our words to walk at ease,
delighting each in what the other said,
would be the highest art and truest praise
of God whose life quickens each leaf, each phrase.
— Esther Cameron
*

Out My Window
after Howard Nemerov's ''View from an Attic Window"

When I look out my window or
go out my front or any door,
I'm looking at or going to
the very same outside as you.
You could be miles away, or more —
time zones, millennia; this is still true.

There's part of us that's not within
such walls or windows, nor our skin.
It goes and reaches, unlike windows,
walls, or doors, which close and open.
"Soul," it's sometimes called: the part
of us not here, but full of hope,
just as the body's fueled by heart.
The former is the metaphysical;
the physical's what "is."
The veil between them is as thin
and light as any veil might be—
so light it may be easily
lifted in love, romance, dance, prayer, or poetry.

The heart of me beyond these eyes,
the white space that surrounds these lines,
the memories of valentines,
the thing that lives when something dies,
are something like that vast outdoors:
All One. And mine is quite the same as yours.
— James B. Nicola
*

Window Poem

Foundation work cracked
the rippled pane
in our basement —

marks from glass
laid in an oven
to flatten.

Now, the new window
is perfect
and clean —

as if you are looking
straight out
at Earth and sky.

Nothing between
you and the stars
at night.

It seems
an easy escape
from these old, brick walls —
not one that would cut,
and then scar.
— Tony Reevy

In response to Wendell Berry's "Window Poems," an excerpt from which can be found here https://www.poetryfoundation.org/poetrymagazine/browse?contentId=30905

*

Often I Am Permitted to Return to a River
after Robert Duncan

where white lotus blossoms, strung on scarlet roots,
chase dragonflies on summer afternoons. It is a place
both of the mind and outside of it, a thought sunk in nature

that emerges, fully- or half-formed, depending on
the mood of the day. Sometimes thunderstorms
blanket the earth with terrifying darkness, a thick rain

pelts the trees, fields and houses.
Sometimes the river floods and spills over
its banks, drowning wildflowers as thoughts

drift off to faraway places. They emerge in a new
world of the mind. Sometimes they begin to sing
newly-remembered choruses, under distant suns.

Often I am permitted to return to a river
which nourishes and fills the heart's cave,
ebbs and flows, out to the world again.
— Elizabeth Tornes
Cf Robert Duncan https://www.poetryfoundation.org/poems/46317/often-i-am-permitted-to-return-to-a-meadow

*
Thirteen White Birds
after Wallace Stevens' "Thirteen Ways of Looking at a Blackbird"
Fairy tern needle bill black sphere eyes
ridiculous nest on a tropical twig
a life at sea, parenthood.

Mute Swan push of a leg, bend of a neck, arch of wing
bill of red; you merge with your neck's
bow, dabble together, hiss — together.

Great White Egret white angles, aigrettes like fluff
etched in, you mark the fields and rivers
with your oval body and neck of long light.

Leucistic Blackbird the tchook, the raising tail
the plink — plink of roosting, and the song: evening.
yet — unworldly — yellow bill and eye of black.

Ross's Gull bobber on water, swimmer, in storms on the wing,
on ice floes you rest, and summer dawn
tints you as long-awaited spring lights

Scissor-tailed Flycatcher cutter of fences, you shine in Texan light:
poised, feathers, white wings that pull
that tail like ornate swash across a page

Rock Ptarmigan (winter) I saw a black beak, black eye, red ring
on the Schilthorn glacier
that flew away

Gyrfalcon fresh-in from Iceland, across the Loch of Spiggie
streak of snow, streak of lightning
thunders through the golden plover

Siberian Crane (Omid) I keep returning it's my place
but it's always empty, oh, there's ducks and geese and things,
but no more dancing.

White Bellbird Loudest door — unhinging — bellbird moving
sideways, forwards, building a redoubt — A castle
comes to the forest of Caracarai

Snowy Owl Pile of snow with lava flakes
stares, orange-eyed; flips
into the air, over tussocks, cotton grass, tips
its head over a lemming — brakes.

White Conella sidles over, chews my ear
hangs upside down on the sunflower head
drops with a screech — crest Radium red.

Whooper Swan a swirl of snow, a triangle of yellow
fiercely together in the piles
of storm, white is the white on whitest
— Dave Garbutt


On the Collected Poems of Rupert Brooke
A fly spared him the handicaps of fame,
His mastery sealed with a little bite.
The fever did not leave him time to write
A single line devised to make a name.
The words we have from him are just the same
As he first chose. No pundit found them trite.
No critic panned them for a fancied slight.
No helpful editor improved their aim.
Before he could be misled he was gone,
Leaving this modest book of hopeful song
To lend us respite from our dreadful news.
Weight does not save work from oblivion,
But this light beauty shall be treasured long,
A monument to his unsullied muse.
— Lionel Willis

*

Go Gentle Villanelle
a reply to Dylan Thomas's "Do Not Go Gentle"

The poet raged. He had no need to pray
for gentleness when exiting the light,
that peaceful sleep would mark the close of day.

He never met with friends at a café
wondering if a firebomb would ignite.
The poet raged. He had no need to pray

terrorists would not shoot him on his way,
his child would safely from each bus alight,
that peaceful sleep would mark the close of day,

he did not need to find words to convey
his thankfulness at reaching one more night.
The poet raged. He had no need to pray.

We rage at those who slaughter, burn and slay,
who target innocents with dynamite
where peaceful sleep should mark the close of day,

we rage when mothers die, children at play,
not for old men whose lives were full and bright.
The poet raged? He had no need to. Pray
that peaceful sleep will mark the close of day.
— Judy Koren

*

NOTE TO E.D.

The reverie alone may have to do
Since bees are few.
—Esther Cameron

*

To Make a Prairie, 21st Century version
after Emily Dickinson, "To Make a Prairie"

To make a prairie takes a clover and one bee
multiplied in the mind
by all the bees and flowers we cannot find
no longer see
must recreate from memory
of strolling through meadows of summer sun
which will be gone forever when not one
bee shall remain.
How shall we then explain
what bees once were when bee-hum filled the air
when bees were everywhere?
— Judy Koren

*

After Herbert
inspired by "The Flower"

A bushel of crackling leaves and shadows shook,
A maple's deep within: Then wiggled out,
A liquid drop of fur from bushy spout.
Though brush and trees revealed a glimpse of brook,
The squirrel preferred a saucered basil plant.
She bent her acorn head as one in prayer
Before the tinted algal water there:
A stutter-step of patterned, hesitant
Partaking; stopped; looked up, a flickering stare;
Then bowed her head again, resumed her drink.

A penitent, too, I kneel at your heart's brink,
A broken face, a what without a where.
I sip the water there and am relieved,
The sum of all I've ever loved, and live.
—Stuart Lishan

*

I DON'T REMEMBER IF I WAS BORN

Was I born in light or in darkness?
— Rivka Miriam

Perhaps I was not born at all
in an hour when it was possible to distinguish
between light and dark
between blue and blue-green
between the contours of my body
and the transparent membrane called soul

Perhaps I was born in the hour of absolute chaos
like a doe screaming for water on a mountaintop
in a hidden crevice under the desk drawers
at the end of the fence on the border of Lebanon
on synthetic turf in the stadium
between the goalposts of the Ancient Holy One

Perhaps the serpent will come up to the birth-canal
and writhe between my legs till I am revealed:
a great stag with kindly eyes
and pleased to create new creatures.
— Amichai Chasson
translation from Hebrew: EC


[untitled]

Was I born in light or darkness...?
You were born in light, my mother answers,
folding her arms on her stomach
and groaning.
You were born in light with open windows
and people in colorful clothes were hurrying in the street
and talking a lot
in many tongues from many mouths....
I was born in light, I say,
and so I close my eyes,
Mother, and reach out my hand
to feel your mouth,
so as to come to you like a blind man
in the dark.
— Rivka Miriam
translation from Hebrew: EC

*

AGNONESQUE AGONIES

I sought a whole loaf

not too sweet
not bitter
not too long
not short
not too heavy
not light
not too hot
not cold
not too soft
not hard
not too healthy
not harmful
not too fresh
not stale
not too tasty
not tasteless

Shall I find it at last?

— Araleh Admanit
translation from Hebrew: EC
(inspired by S. Y. Agnon's story "A Whole Loaf," which is summarized here https://www.encyclopedia.com/arts/encyclopedias-almanacs-transcripts-and-maps/whole-loaf-pat-shelema-s-y-agnon-1951)

*

HALEVY ON THE SHORE

And in my going/out to meet you/I found you approaching me.
— Yehuda HaLevy (c.1075-1141)

Not mind, not heart, but only
this urgent salt responds. Only
what is not my own, only
the moonstruck blood,
only the coursing fluids of me,
not I, can hear this imprecation
of the roads, cannot fail to answer
the churn and slap of calamitous waters,
cannot cease to dream the mournful buoy's clank
out past the harbor fog, beckoning
the tossing surge, the bone-bitter night,
where every compass needle freezes.

Only the unquiet blood can know,
not I, it's always not yet home, never yet
nestled in secure repose, not,
like me, in search of rest at all,
but headed out to meet the drowsy jolt
and sway, the maternal rhythms
of the goat-track, the cart-track,
the restless, cradling deep.
Not refuge, not destination, but only
this departure is our Zion, the unsettling
of all belonging, the journey out, away
from those sanctuaries that without fail
invite the pounding, pre-dawn visitor,
observe without fail the furtive flutter
of the neighbors' curtains that secure
their darkened rooms along the unlit street.

While my yearning heart and mind
envision a return to where
they've never been, it is the circling blood
returns me always to this very place,
the place and time that is my chosen-ness,
my own companionless exposure to this
unquiet dream, this dream that chooses me,
that changes me, to this returning
I can never cease to dream, a returning
I can never know, yet never cease to be.
— D.B. Jonas

*

Coming Home

Amor, ahora nos vamos a la casa/Love, we are going home now
— Pablo Neruda

My treasured soul, let us return home
It has been an elevating journey
From winding trails to mountain peaks
From silent deserts to singing rivers
Regal trees accompanying us
As soldiers on guard
Monitoring our safety
The steadfast redwood, the evergreen and eucalyptus
Thank you, dear creatures, for your loyal camaraderie
For your cooling shades, your whispering lullabies
Now we bid you farewell
As we turn into our own courtyard
Vines overhanging our Sukkot**
Almond blossoms greeting us at our doors
— Esther Fein

** Sukkot— huts constructed for the holiday of Sukkot, commemorating G-d's protection of the Jews' wanderings in the desert before arriving to the Promised Land

*

"Amor, ahor nos vamos a la casa"

Love, we are going home now
Where the vine climbs the stairs;
Before you arrive, the naked summer
Will have arrived in your chamber on feet of honeysuckle.

Our wandering kisses will travel through the world:
Armenia, thick drop of exhumed honey,
Ceylon, green dove, and the Yangtse that separates,
With an antique patience, the days from the nights.

And how, beloved, over the sparkling sea
We will return like two sightless birds to the wall,
To the nest of the distant spring,

Because love cannot fly without stopping
Our lives go to the wall or to the stones of the sea,
To our own territory our kisses have returned.
— Pablo Neruda
translation from the Spanish: EC


2022

Wordsworth! Thou shouldst be living at this hour:
The world doth need thee, she is a morass—
For lately our discourse has become crass—
And neutered is our creative power,
We've taken Gradgrind's view of the flower:
Made slaves to statistics, money, and math,
In schools devoid of art and music class.
The child is the father of the man, sour—
Your voice taught us the breathings of our hearts,
The spontaneous overflow of our soul;
The rainbow in the sky that makes us whole;
To observe divine nature and create,
And elevate ourselves by making art—
To leap up again before it's too late.
— A.A. Rubin

*

GETTING BACK INTO WORDSWORTH

How often has my spirit turned to thee!
—William Wordsworth, "Lines Composed A Few Miles Above Tintern Abbey"

Dear Wordsworth,
Yestereve (why did we drop
that sweet and economical locution
for our inept "yesterday evening"?),
in the kitchen of a house that seems to wait
unknowing for my father to return,
I read aloud the lines that came to you
beside the "sylvan Wye," where you went roaming
with your "dear sister." Not with ease I read them:
I am a Modern Poet after all,
and such expressions as "wild eyes" awaken
the scoffer who, whether or not we like him,
is well ensconced in all of us these days,
and with him the regretful skeptic, versed
in all we have been told concerning Nature
— "red in tooth and claw," Tennyson wrote
soon after you. And in me also lives
a disappointed mystic, who when young
desired likewise to be at one with Nature
but always felt a barrier: could never
shake off a tedious self-consciousness.
Moreover, just that day I had perused
some verses of the kind the wise admire
these days, well guarded against any charge
of mush or gush: so much so that at times
they seem devoid of love for any thing
in all the manifest universe, and only
proud of the shrewdness of their unbelief.
Surely their lines and yours cannot be called
by the same name. If one is Poetry,
the other must be something else. Yours have
the prior birthright, theirs the present field.
But theirs I never could have read aloud
to make an evening less desolate.
So on I soldiered, through "sensations sweet,"
through "influence" and "aspect more sublime,"
through a syntactic underbrush that now
and then would open for a blessed moment
upon the clearing of an end-stopped line.
And as I read, yes, I was visited
by "many recollections dim and faint"
shimmering through your scene and your reflections:
I saw again the hill farm which my father
purchased for recreation (which for him
meant a new form of work in which to pour
his endlessly constructing energy):
I saw the house upon the spur, the high
pastures, the paths down through the sandstone bluffs
to the valley where a little nameless stream
meanders, softly purling, overlooked
till recently only by oaks and birches
and by those bluffs. Their faces, scored by strata,
were pages of Earth's immemorial volume
which he had deeply studied, and sometimes
had opened to the wondering ignorant gaze
of a child apt at neither work nor knowledge,
yet capable of awe, that looked back through
his vision at the silent wastes of time
with something of a "natural piety"—
that could not help but trace in rocks and skies
a semblance of his will, sternly exacting
because profoundly kind. For this child only
he also, at rare intervals, took down
one of the small red volumes he had kept
from college days, and pointed in it to
your words. As though he'd had them in his mind,
but like a place seldom revisited.
They would come back to me in that still valley,
where every chance-met flower seemed aware
of some abiding friendship in all things.
In that half-wilderness I came to feel
not "wild ecstasies," but nonetheless
a peace that never came in city limits,
far less upon the outskirts of the city
where speed and greed transform the very substance
of everything we are compelled to see.
But since the failing of my father's strength
that land reproaches us, as a possession
held onto out of weakness and regret.
I have not walked the valley's length this spring,
and with those memories comes the thought how few
can still afford to see their Mother's face!
— Thus, Wordsworth, while conversing in my mind
with you, I read, and stumbled now and then,
and from my mother's face could not be certain
whether she heard or drowsed. But when I finished
she opened up her eyes and, smiling, said,
"How lovely—and you read it well," nor could
I doubt her praise sincere. How blest I am
in one such parent still, in whose white age
more innocence and joy survive than in
most infant fosterlings of this dark time,
besieged even in their cribs by strangers' greed!
Fortunate, too, in that I still can hear,
Wordsworth, your voice, though distant, and can still
guess at what you meant, and answer you
as I could never answer those who doubt.
— Esther Cameron
Madison, Wisconsin, 1999

*

Natural Piety

The child is father of the man;
The baby, of the child;
And in the not-yet-born we see
The same, unless beguiled
By sophistry and self-concern,
The threadbare daily lie
Which hails the mother's right to choose
To make her baby die.
— Eric Chevlen

*

AFTER TRUTH

Companioned…by the love of those not loved.
—Paul Celan, Conversation in the Mountains

Exposed to the limitless,
the crystalline, the imperious night,
to an indifferent firmament's
immemorial procession
across the icy vault of heaven,
over the forest-girdled,
concertinaed camp,
did you lie together?

Did you murmur sullen comfort
in the crowded dark, your slow ablation
invisible to you there, invisible in her
appalled, appalling daylight eye,
while the soul-shattering,
boreal winter held you fast
to the bitter, senseless brutality
of all the words, the disappearance
of all that our familiar meanings meant
that morning, long ago,
that barely yesterday,
before the speckled hand's taut tegument,
vellumed by time and dread,
reached toward me at the siding,
through the brambled fence,
and while the mother's voice
still rang familiar as a name,
quiet as a caress, relentless
as a melody mostly unremembered,
as I stood frozen, as I fled?

Survivor, bona fide citizen
of this post-truth universe,
my indigent, geologic speech
stammers its colliding,
crumbling marl of syllables,
arranges itself in decompositions
that fall away when spoken,
where all concept
disaggregates of itself, out there
in the realm of concept,
requiring no intervention
from me, where all speaking
collapses in fratrasie, I fear,
in jumbled residues of reason,
an unbidden, unlovely
lung-music.

Yet here I stand
accused of a gruesome lyricism.
And who will see that here
I do not really stand at all,
but somehow only manage
a tenuous verticality
shaken by the turbulence
of this mad flight from flesh,
from self, from the flesh
of this self, to muster
on occasion a feeble response
to the obligations of the human,
and to scatter here and there
my miserable offerings,
these paltry shalach manot,
and from time to time
beckon the Shechinah, reach
toward the father's gnarled hand
through the wire, assemble
a fragile shelter, and ring
these vowels once again quiet,
once again manage, briefly,
to unremember the carnal
consonants, the maternal melody
of her name?
— D.B. Jonas

*

BAT KOL (ECHO, IN HER OWN VOICE)

Once again returned
to that spectral wood and the glimpse
of another shape in the dimness.

Can this one see me?
Does the internal conflagration
lit by the fall of an arrow of fiery ice
into the heart,
the ignition of a name
abandoned and claimed,
show as a light here?

Who wants
the love of those not loved?
Who would stretch out
a finger to be bundled
with others into an awkward ring?

Who was there
with me
where are all the others
who felt on their flesh
the touch of a word

pray recognize whose are these
the seal the cord the staff

The spectral wood.
The silhouette — within reach?

miserere di me
whoever you are
anticipated shade
or solid mensch

End of all riddles.
The simplest words.
This
living
hand.
— Esther Cameron

*

Soul
By its sense of light
you divine the soul.
— Paul Celan, Language Mesh

Oh, I know, I know how ruthlessly and long
you have pursued the arc and the ring
before other geometries.
Hallelujah
that at last the neck is supple again
so that now you may see the entire circuit.

You will see
nothing
that does not answer
to the concord of a circle
as surely as the mesh of a net
folds inward to embrace the catch.
— Irene Mitchell

*

PROZZE

I read Chana Kremer's poem. She doesn't write poetry at all.
She's out of her mind.
She lets her poem make her crazy
lets her poem spew out its lines all by itself
lets her poem kill her
make her suffer
stupefy me
Her line kneads me
Her line is unpoliced
The line she starts gets loose throws off the yoke flies off where it wants she barely manages to catch the end of it in the end on the rebound and pull it back into the box that's call brain wrap it in a frame of sanity
calls it a poem, calls it prose, the main thing is she calls it and it comes.
Like the no-discussion that sits and rests in the no-reason
everything begins and ends in the wild thought of the point of Chana, a starting point, freeing her to burst open, a point without space without time, freeing her to run wild, freeing her to make others crazy, freeing her and she has no intention of freeing it, freeing her and not freeing the hand that holds her back side, the side of the rude backside, rooting her in the here and now, at least not in the there and then, not in a little later, not in a little less painful, as I am, as everyone is.
— Tirtsa Posklinsky-Shehori
translation from the Hebrew: EC

*

TWO POEMS BY CHANA KREMER

1. [untitled]

She died the death by a kiss
How is it possible to die so beautifully?
I too want to die beautifully
Death by a kiss death by love death by affection death by silence
To fall like that, like she did, in a white dress and white shoes
In the Rosh HaShanah morning prayer
What a splendid death what glory
Rabbi Amnon did not appoint her such an honored death a death that has something
of the revelation of Divine Presence
and from there to a world of love to a world of death's lullaby
Like clay in the hands of the potter I want
to lie in wait for death to satisfy him with the death by a kiss
that never ends

2. LOVE

In the Tiferet Yochanan synagogue
The Sabbath of Sukkot
love is love
in the morning prayer the righteous women are righteous
the dresses are dresses
clouds of cloth interwoven with hymns interwoven with rhymes
powerful stockings
the wigs are wigs and on them are hats
the heads of the girls are braided
the tear is a tear
the oy oy is oy
the woe is woe
the white is white
the cold of the air conditioner enfolds them as a single unit
the daughter is a daughter
the mother is a mother
the voice of the men's section murmurs in Hasidic accents
and it will be if you hear and even before
to unify You with love for love Who chooses love
this is the first time that I am in love
Love is spread out before me revealed
the body and not the body
spread out like a slice of bread
warm tasty fragrant
desire love
the velvet is velvet
the sash is a sash
the shtreimels are hung on the wall in a row
waiting humbly to get their heads back
the devotion is devotion
save us please save us
the swaying is swaying the longing is longing the melody is melody
women are urgently requested
not to talk during prayer
the notice is hung up enlarged
and the still small voice and only sobbing is permitted
and the sobbing is sobbing
for the kingdom
for your sake You who seek us save us
in the Tiferet Yochanan synagogue the Sabbath of Sukkot
I allow myself to weep
go deep into Kohelet vanity is vanity
and a time to be silent and a time to mourn and what more will this year bring to me? What?
Ani vaho we beseech you I I I and He He He
Tiferet Yochanan the white is white the tablecloths are tablecloths and the mechitzah is a mechitzah
and I could throw myself could wrap myself around you
touch Your lips immerse myself in You purify myself
sing myself purify myself fall in love draw near
the faith is faith
the prayer is prayer
and the hope is hope
and the sea in the distance roars and is not heard
its breakers are it breakers
and its song is its song
and I am divested of the body and close my eyes to the beauty
absolved of all suffering simple lunging out of enclosures
until a granddaughter is a granddaughter
pulls my hand to her hand
to the blazing of the street

translation from the Hebrew: EC

*

I GIVE THANKS TO YOU

I give thanks to You…for restoring my soul to me
—prayer upon waking

I give thanks to You, who do not make haste
to take my soul — my time I'll not waste.

Teach me to go slowly, not rashly connect
meanings to words, but with compassion reflect.

Behind the words let me hear the still tone
That touches the soul in secret, alone.
— Eva Rotenberg
translation from the Hebrew: EC

*

YIGDAL
"How great is the living God, may He be praised."
— the first line of Yigdal, a medieval Hebrew hymn attributed to Rabbi Daniel ben Judah Dayan of Rome (the 14th century)
How great is God, the One before all ones,
Who will last beyond all lasts and never change;
Whose light ignited galaxies of suns
In spheres and vessels, marvelous and strange.

How great is God, Who turns to us in grace,
Who hands us down His words and His commands
Through Moses, - prophets, - scholars, who embrace
The Torah's oceans, coral-reefs and sands.

How great is God, Who knows our thoughts and deeds,
Our inner hopes before our hopes are born;
Who sees unending orchards grow in seeds
Before they're sown, Who gathers those who mourn.

How small is man, yet God, in greatness, gives
His promise that despite man's death — man lives.
— Yakov Azriel

*

WHO KNOWS ONE?
"Who knows one? I know one — one is our God, in the heavens and the earth."
— from Echad Mi Yodea? ("Who know one?"), a song sung on Passover night
Who knows one? Who knows two, three, four or five?
Who knows six or seven? Eight, nine or ten?
Eleven? Or twelve? Or thirteen? But when
All numbers lose their meaning, we arrive
At logic's limit and its grave. We strive
To understand and try to count again,
In vain; instead, we say a soft 'amen,'
For logic's sister, faith, remains alive.

Although we could conjecture the amount
Of star dust needed to ignite a sun,
Or measure time till time becomes undone,
Not one of us can comprehend or count
The mathematics of God, the primal One,
The holy One, the unknown, hidden One.
— Yakov Azriel

*

CONTRITION
in response to Matthew Arnold's "Dover Beach"

I thought I'd have to put aside my eyes
In order to believe, and put aside
My brain, because belief in God had died
I thought, when hearing helmsmen eulogize
Its recent death or imminent demise.
The sea of faith was shrinking and its tide
Had surely turned, so I felt justified
Surmising that its shallows swarmed with lies.

Or so I thought. For I was full of pride,
Self-confident the human mind was wise
Enough to analyze the brine of life.
Oh what a fool I was, my God, to hide
Behind this mask and wear this cheap disguise,
While stabbing oceans with a pocket-knife.
— Yakov Azriel

*

FIVE PORTRAITS

1) LETTER TO ERNST STADLER

A century has passed since he was killed
in the trenches of the first World War.
Now his poems blossom for me
full of radiance and innocent joy.
He was thirty-one when he died, even younger than my son.
The tide of his feeling still rises above the ponds,
the trees, the river mists swirling in sunlight
in the landscapes of Europe which my parents breathed,
who were not yet born then. The flame of his young heart
still beats like a struggling bird
in my hand.

(Stadler's poem "Setting Out" may be found here: https://www.poetrybyheart.org.uk/poems/setting-out/)


2) Czeslaw Milosz

The pained intelligent look, the eyebrow erect like a bat's wings. The hands
Holding each other confidently, whereas the spaces between the fingers are doubt.
But one finger touches his lips – to hush the desire of being given,
To mask embarrassment, to delay the formulation that polishes itself like glass,
To forestall the betrayal of the last secret

The high forehead is gradually moving away
Toward the compassion of one who knows everything, sees everything, renounces
Everything, so to speak


3) Zbiegniew Herbert

Not explicitly, but I thought you would not die – because of the truthful voice,
The morality, the conscience, the unshakable wisdom (which does not mask
The emotion), the classicism of the last of the giants – not only
You, but also others whose words (not lives) became an example.

Always the astonishment: he too? You too? You too were not helped by what you were –
You too did not decipher the eternal – against your will you gave place
To those who came after you – to invent a voice, their own voice
— To say the word from within their own anxious
Lives.

*

It won't help you how heartfelt the funeral will be; they will forget you.
They always like to forget. For how could they love one of whom they knew
Only the name. Will it comfort you to know that our fate was no different
From yours, for we shall be forgotten — even if the name remains — for the name of a person is not the person —
It is not the flesh and the blood, the beating of his heart, the breath of his nostrils, the talisman of his soul, his wonder in the presence of creation—
Forgive me for saying such things,
after all I
Don't know you — for me you are just like all the others who have names — and those who truly
Love you from the depths of their hearts, let's say your parents, they are no longer here to testify what
You were, at least for them — are now wringing their hands in desperate sorrow there on high
Because you are not continuing in the human eternity — and your mother wants to know only this:
That the end was not too painful


5) Like for Instance Sylvia Plath and Ted Hughes

She, too, in a poisonous quiet
Which began with a drugging adoration
Took from him the freedom to be
What we all are most of the time
before the deceptive radiance was bestowed on mortals.

And being destroyed like a voodoo doll
Refusing — despite everything — to relinquish the image of his love
Havng to hate in him her innocence
Which trapped him like a peach
That desires to be swallowed.

Someone had to be in this
Rage, to rescue the lie from the trap of truth, or vice versa,
For everything got twisted, the soul of the one became not his —
Not hers —
Like birds that forgot their nests
Where they laid their eggs
The destination of the ancient flight.

Her love was the breakdown, the sacrifice, the betrayal that crucified itself
Because it sought the divine
And still would not look directly
At the weak link —
Expecting that the words would magnetize Cupid's arrows
And give Hades the dark intoxication
Of the resurrection of the dead.


5) EUGENIO MONTALE

Even with this slim volume
It is possible to swat a mosquito hovering
Close to the wall tiles
And then Eugenio Montale looks at me
From the cover, with his soft, shadowed
Peasant's face, a cigarette in his hand as if
Holding his intelligence delicately —
His fragile maturity

Only just now, on rereading
(because of the mosquito), I discover
His measured, quiet, conciliated voice
Speaking from the trivia of my daily life
With ironical sadness
To her who is always listening
For the music of memory
— Ruth Netzer
translation from the Hebrew: EC

*

HARROW BOYS
Missolonghi: 19 April, 1824.

Clare….
Of course I'll die with Clare's name on my lips;
They'll think I mean Claire Clairmont—Jane—
Allegra's mother. Poor Allegra!—tossed in
A nameless grave for spite: my sins
Upon my daughter's head, like Zeus's curse
On the House of Thebes. Well, peace be to her,
And peace to me. But it was always Clare
I meant, from when we were boys together,
Before I awoke one day and found that I
Was famous. But it was never fame
I wanted—only to be loved, and to
Believe that I could love whoever loved me.
But when they did, I hated them, because
It was too late; all but Clare—Clare, who loved
Me first, before it was the fashion to.
Love was a new experience for me:
"Too bad about the boy," my father said:
"Club-footed, you know." Club-footed, he said
In Paris, while I was in Aberdeen.
"Lame brat!" my mother said. Then
One day, all at once it seemed,
I had a second birth when I became
A Harrow boy with Clare and Long,
With Dorset and Delawarr—those few,
Fast-fleeting years, no sooner lived than lost;
Till I saw Clare again three years ago (three years
Already!)—the last time I shall ever see him—
Along the road between Imola and
Bologna. Our carriages were passing, and
I caught a glimpse of him—that look of his—
Across the open way; and "Clare!" I cried, and he,
"Byron!", as we both leapt into the dusty road,
And all the years between us passed away at once:
"Where do you come from?"—"Where are you bound?"—
"I heard of you in Venice, or in Rome."—
"I left a note in Bologna."—"You are always in
My thoughts; think of me when you can."—
"Pray write to me, or do not, as you choose."—
A hurried word or two before, "We'll meet again,"
And it was over. Five minutes in a public road;
And yet there is no hour in all my life that could
Be weighed against them. We shook hands as
We parted, I for Pisa, he for Rome,
And my heart beat in my fingertips,
And beats there now, remembering:
Conosco i segni de l'antica fiamma—*
A flame no woman's love has ever lit.
Tomorrow, when this fever breaks, I must
Tell Fletcher: Go to Lady Byron; tell her—
Everything. She will not understand—
At least she'll know.—Then it is settled—Good—
Good—I shall rest now…Annabella….
Augusta…Ada…Allegra…Clare….
Clare.
— Frank Salvidio
*"I know the signs of that ancient flame." Purgatorio. XXX, 48.

*

BACH'S SAINT MATTHEW PASSION, AFTER WORK

The bass flows downhill, offering mercy
to high songstresses and tenors. New notes
climb like rosemary up clefs. When they float
through your tired bones you know both sinful trees
are absolved. There's nothing left to redeem.
Relax. It's music, not a prayer.
You don't believe. Choirs ride the air—
they're not angels. Of course, God touched Bach's mind—
a kiss in B-minor left its mark. Time
changed. And now you hear a truth, pure and bare.
— Mark J. Mitchell

*

TRYING TO DRAW DANTE

Ponete mente almen com'io son bella
Consider at least how beautiful I am.
—Dante Alighieri

The gimcrack bust on your bookshelf outlines
his face but little else. The nose that cut
old sins into living men. The cold thrust
of that chin. Cold, still stone framing white eyes
that judged all. None of that meets his lines.
And your hand, your pencil, never adjusts
itself to pages of sketchbooks with such
sharpness as his metaphors. This fast time,
the penance, made you open an old pad
and darken it with wood and lead. You're far
from talented. You try. It will be bad—
you're sure. It won't have his particular
edge. Still, you might limn his shape. Your rough hand
shakes. Look at the page. Look at the dark stars.
— Mark J. Mitchell

*

THE DISAPPEARED WORLD OF EDMUND HUSSERL

i
How does a phenomenologist begin his day?
He gets up fully conscious, as he takes his shower,
that he is merely soaping a body whose existence
has no foundation, then wolfs down a few
slices of toast and jam that have been nihilized,
slips on some clothes that are largely
parenthetical, heads to the office…encounters a cat.

It matters little to Edmund Husserl
whether the cat exists or does not exist
or even what the cat is in its very essence.
All that matters is the perception of the cat.
And the cat itself? Well, we can just do without it.
Bye-bye, Kitty. Who needs a cat? What cat?

What do we know of the world? Nothing.
All knowledge is reflective consciousness exploring
its own self: the immaculate, the merciful good.
I imagine him toward the close of the day—
perceive might be the better verb—
distilled in thought, thinking of himself thinking,
as she sits alone in his study:

It is not in the premise that Reality
is a solid. It may be a shade that traverses
a dust, a force that traverses a shade…
evening evoking the spectrum of violet…

ii
Husserl died at seventy-nine. I am eighty-three.
I have loved and enjoyed cats all my life.
I mourn them when they die. Extravagantly.
I play loud dirges on the piano.

I am not going too play a dirge for Husserl.
You cannot put him on your lap and pet him.
Yet strangely enough I will miss him.
(Or rather my version of him).

To contend with another is to get
to know them—for better or for worse—
just as in marriage. And just like that,
like a knock at the door, my cat shows up
and proudly presents me a lizard.

He often catches lizards in the summer.
Wonderful playthings that usually manage
to get away. As does this one.
Perhaps tomorrow he'll bring me a mouse.
Yes, yes! Here Kitty, Kitty! I am restored.

I bid you a fond farewell, Herr Husserl. We met
years ago at la Bibliothèque nationale, à Paris.
— Constance Rowell Mastores

*

Auden Redux Sonnet

We share the darkness and the air
We even occasionally talk of despair
Sighing and murmuring, we cover up the fact
That we are always completely separate
Even thrown together, entangled in our shelters
I grow irritated by your habits, you by the welter
Of all my unexpressed wishes
I by your messes, you by all my unwashed dishes
Yet when we long to be alone again
If only to yearn for a truer friend
We grow frightened of it as well
And that in part is the story the pandemic tells
Auden wrote that we must love one another or die
He forgot to add: At our best we can only try.
— Allan Appel

*

At A Stop & Shop in New Haven
with thanks to Allen Ginsberg's "A Supermarket in California"*

Donning mask, glove, and baseball cap
Like a thief I go out to shop
No surprise everyone's dressed like that
It's kinduv fun to see all the robbers by the Cheerios
And that gaggle of felons
Keeping distance by the melons
But now in comes a fellow with no gear at all
Healthy-looking, asymptomatic for sure, and tall
The store grows quiet, then with a start
The thieves scurry off with their wiped-down carts
This man's stride is sure, his smile long and bright
He's the one likely to take your life.
— Allan Appel
*https://www.poetryfoundation.org/poems/47660/a-supermarket-in-california


I TOO
after Robert Frost's "Acquainted with the Night"

I also am acquainted with the night,
as if this fact is worthy of acclaim.
I too have passed the farthest city light,

where single modern houses look the same.
I know the smell of city dirt and slime,
this is the urban womb from whence I came.

And anyone who stops will hear the crime,
above the noise of engines and exhaust,
regardless of the season or the time.

There is a hidden penalty and cost,
prevailing in these hours of fight and might,
where evil congregates and all seems lost,

As men with guns patrol in black-and-white,
and cries for help are heard above the night.
— Gerald Greene

*

I Always Want Eyes to See
in conversation with "Ani Rotzeh Tamid Einayim" by Natan Zach*

I always want eyes to see
the beauty of God's world –
the fuchsia sky at dawn
the sun sparkling on a lake
the full moon sliding out
from behind a cloud
a lizard as it scurries out
from under a stone
a rainbow's curve across the sky
raindrops on a petal
the rich purples, pinks
and reds of roses.

I always want eyes to see
my children's smiles
and to look at their artwork
displayed on my kitchen walls
eyes to see
the walls of Jerusalem lit up at night
the beauty of her ancient, tunnelled alleys
her domes and the splendour of her light
eyes to read —
whether words of inspiration
that uplift my spirit
or wisdom in a good novel.

I never want to be blind
to my mistakes and misdeeds
or to your feelings and needs
or the beauty and goodness within us
never want to lose sight
of our destination and fall
into a depression
and torpor of my spirit.
I always want eyes to see —
to understand what I must do
and recognize
that G-d is running the world.
— Ruth Fogelman
*a partial translation of Zach's poem can be found here https://www.eng.chagim.org.il/LIFE-STUDY/I-always-want-

Without Apologies to William Carlos Williams
in conversation with William Carlos Williams' poem, "This is Just to Say"

I have eaten
the white chocolate bar
that you had put in the top cabinet,

and which
you might have been
saving for the children.

You don't have to forgive me.
It was so creamy it begged to be eaten
by this fifty-year-old child.
— Ruth Fogelman

*

White Chicken Haikus
cf. William Carlos Williams, "The Red Wheelbarrow"

I
Sparkling in sunlight
Silent red wheelbarrow stands
Beside white chickens

II
Beside fried-chicken-
Fast-food take-out restaurant
Red wheelbarrow sign

III
Chickens run around
Beside the red wheelbarrow
Free ranging, alive
— Mindy Aber Barad Golembo

*

SO LITTLE

No,
nothing at all depends
on that red wheelbarrow
or on those chickens either.

A pretty pass we have come to
when things
begin to assume self-importance.

It is of no consequence whatever.
— Esther Cameron

*

The spyder
inspidered by William Blake's "The Tyger"

Spyder, spyder, in the night —
Gosh, you gave me such a fright!
What spirit could think up and plan
a creature so unloved by man?

In some dark corner, there you hide
in silence, poised and beady-eyed
watching your web for bugs and flies
to pounce and catch them by surprise.

What master craftsman, with what art
could paint in black both head and heart
then mould and shape with skillful hand
eight long black legs on which to stand?

Small monster — seeing you appear
the world cannot contain my fear;
hairs stand up like a porcupine
and shivers run along my spine.

The angels sympathize and cry
at my distress and justify
the terror that I feel, to see
this gruesome thing approaching me.

Spyder, spyder, what a fright –
I'll keep my slippers on tonight
in case you creep out from your lair
and try to catch me unaware!
— Rumi Morkin

*

Unbecoming

It brings no relief to confess
how often I've wished to write poems
others have written first.
I am even jealous
of water, of lines that move like water
past trees with mangos and sugar
birds perched on teacups in St. Croix.

It would seem I've nothing more to do
than sit long hours tweaking this word
or that to breathe deeply
in the margins of someone else's poem,
someone else's life.
In Please Don't,
one silly bird packs a bag of hope
and flies into the white page
it calls home.
I mistake it for mine,
my home at the end of a dirt road,
a lawn mowing goat, chickens
with Yiddish names, and a charitable wife.

Unlike that poem, mine falls flat
on its unrhymed face, dazed. "Please
don't slam the door on your way out.
You'll wake the child we might have had."

It's not uncommon for me to hold
my Kuretake pen, best friends
until the ink dries and my fingers look
like those of a tree frog.
For sure
it brings no relief to imagine
fatigue in a pen's heart or mine
while staring at a blank page, at
the sugar bird who lands briefly
to sip nectar from words yet to appear.
— Mark Rubin

*

After Insomnia
after Elizabeth Bishop

And it ends so sweetly, especially
Since we've never ever been
Properly introduced or for that
Matter, introduced at all, but then,
Who of us have those rare moments
That begin, in innocence with, I'd like
To, but then, the moment fades
Like Elizabeth fades as well when
She writes "and you love me,"
And after that, I'm so in love,
Wondering how she knows how
I've waited forever, even if it's only
A bird whispering, but then, the one
I lost, she'd say that every day, but
Not "you love me," but I love you,
And now there's no moment left
To echo yes dear, I love you, too,
Even after you just up and left
For places so far away in dark space,
A place none of us ever want
To travel to, though there you are,
Out there, floating so peacefully
In that icy cold space some of us
Are so afraid to visit, the space
Where you are, even though we
Knew what love was, yes, you'd
Say I love you over and over in your
Last days though I never wanted
To say it right after you, and now
In your "far and way beyond sleep,"
Well, please know I'm losing more
And more of these precious dreams
Some say all of us might want more
Of in this all-new inverted world.
— DeWitt Clinton